'WTF' is a new column from WhiteHat Magazine, documenting the weird things on the internet that make you just go wtf. Congratulations to the Salt Lake County Republican Party for being so weird they beat out the rest of the internet to be our first entry.
If you feel like Twitter was draining all of your attention these past few months, you aren't alone. Since President Trump has entered office and turned to his personal Twitter account for policy announcements and musings, politicians of all stripes have reexamined their use of the social media platform.
Senator Orrin Hatch (R-UT) has combined the typical policy statements and media clips with flashes of humor that resonated well with snarky Twitter audiences:
Just say no.. to #HipsterAntitrust. CC: @Darth, @ProfWrightGMU https://t.co/0Agjivq2cO #AntiTrust pic.twitter.com/Jt9JuqmrpV

— Senator Hatch Office (@senorrinhatch) August 3, 2017
"You should see this funny Orrin Hatch tweet" is not something I expected to say today.

— Sean Stone (@_sean_stone) August 23, 2017
Utah's Lt. Governor Spencer Cox manages his own Twitter account, rather than outsourcing it to staff, with the result that anyone can have a friendly and respectful conversation with him about issues affecting Utahns.
Passed a minivan with a bumper sticker in the shape of a middle finger that said "F**k Cancer." The guy driving was smoking. ‍♂️

— Spencer Cox (@SpencerJCox) August 18, 2017
That's not quite true Mark. Almost all of our communities now have gigabit Ethernet:fiber. Only a couple dead spots. That was my old job.

— Spencer Cox (@SpencerJCox) September 3, 2017
Yes. The political industrial machine has convinced politicians that they shouldn't communicate the way other human beings communicate. https://t.co/QtRSqjOz7h

— Spencer Cox (@SpencerJCox) August 19, 2017
Some politicians, however, have taken a different approach, leaning into attention-grabbing outrage, alt-right trolling, or downright pugnaciousness. Some are upfront about this, taking pleasure in "triggering snowflakes" and "causing liberal tears" (whatever they think that nonsense means); most infamous among this group are Roger Stone Jr. and Mike Cernovich, although notably neither hold elected office (and probably wouldn't consider themselves "politicians" per se, although they most definitely have had large influences on politics in the past year). Most elected officials and party representatives realize such comments are more damaging to their careers, not to mention to their party as a whole, and avoid this tactic.
And then, there's the Salt Lake County Republican Party.
Apparently, like the President himself, their goal with Twitter is winning! At least, winning internet arguments. They even say so in their Twitter bio: "We don't always debate public policy, but when we do, we win."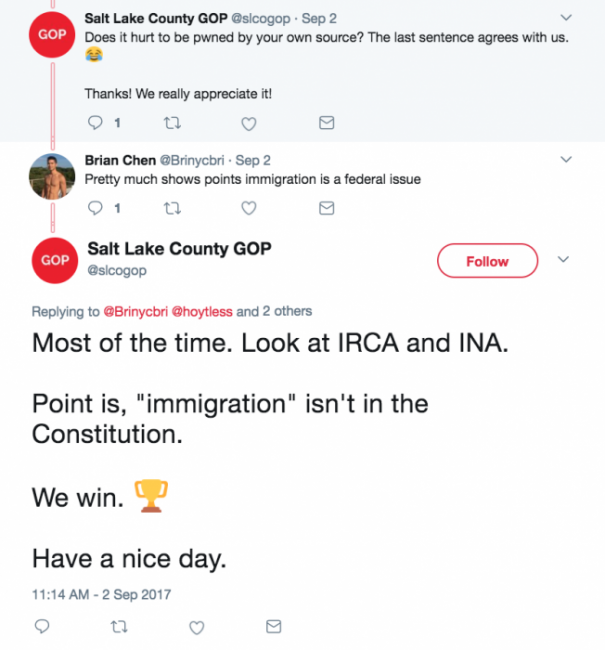 The above conversation came late Saturday morning of Labor Day weekend, but by that point @SLCOGOP had been arguing with people on the internet for over 12 hours over whether immigration is included in the Constitution. During this conversation, they proceeded to:
– Mock members of the Young Democrats of Utah for their age;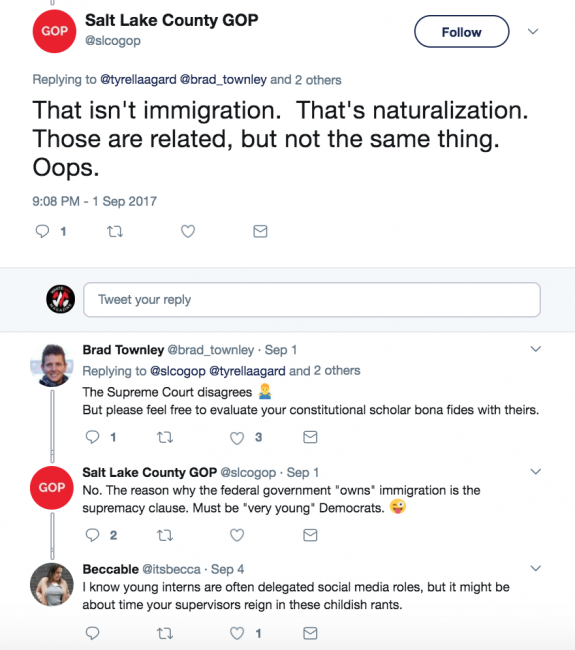 – Claim that the people who attempted to debate with the Salt Lake County Republican Party about immigration policy were merely trolls;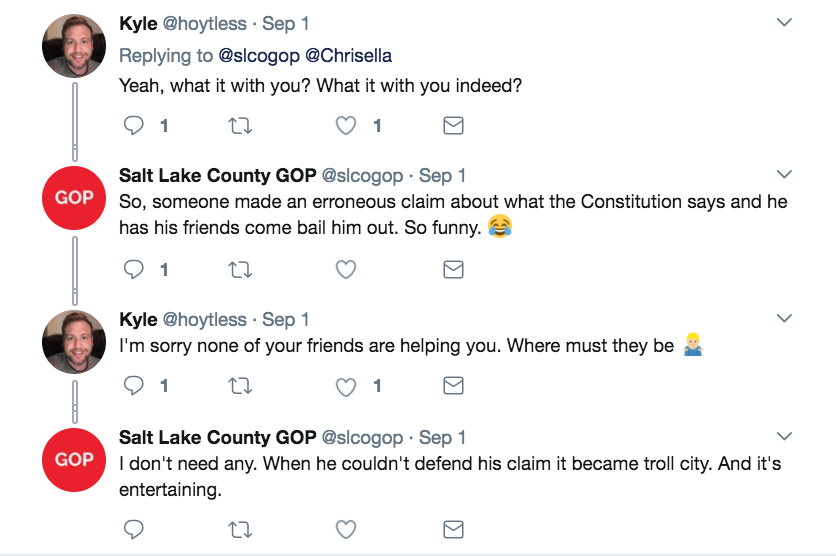 – And engage in whatabboutism apparently simply for the sake of stubbornness.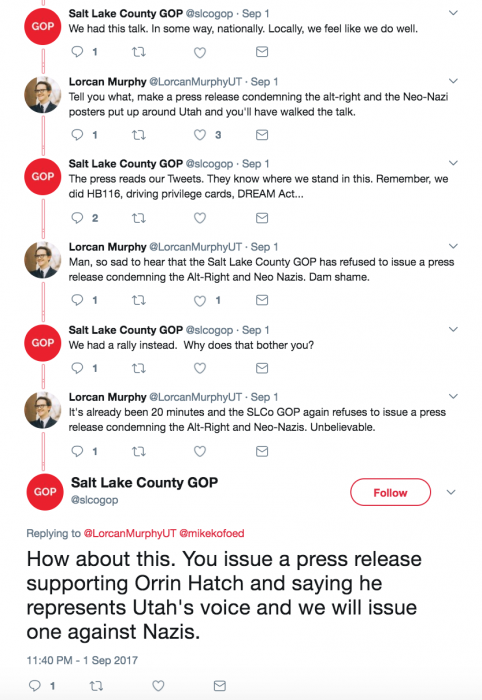 This sort of behavior continued all Labor Day weekend.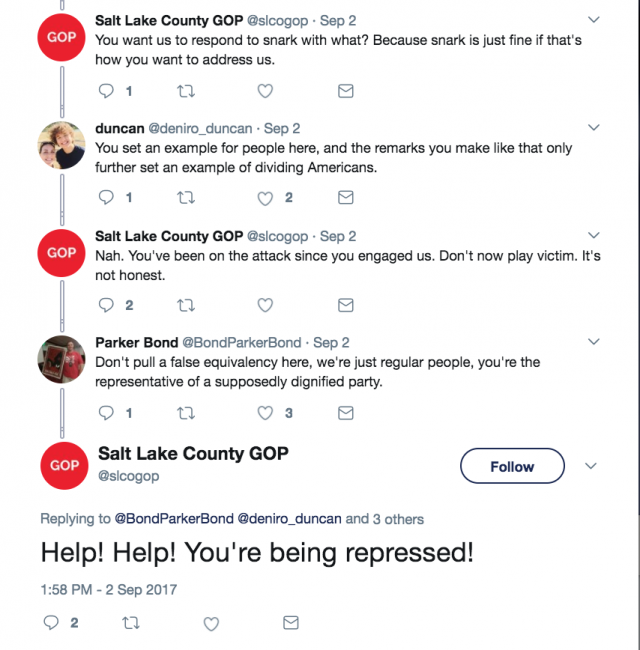 —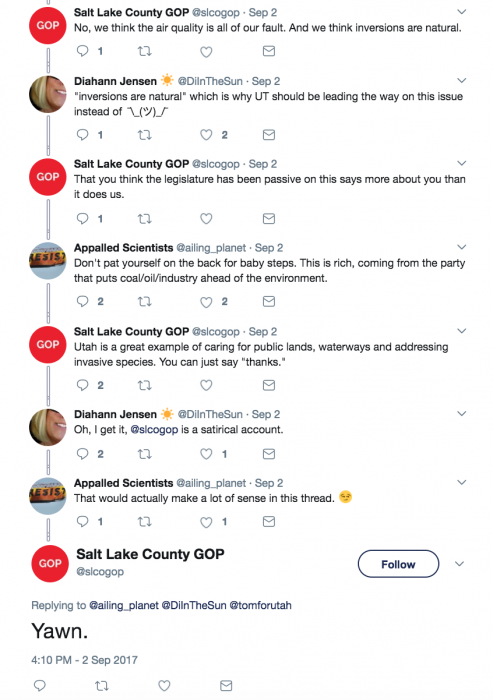 —
—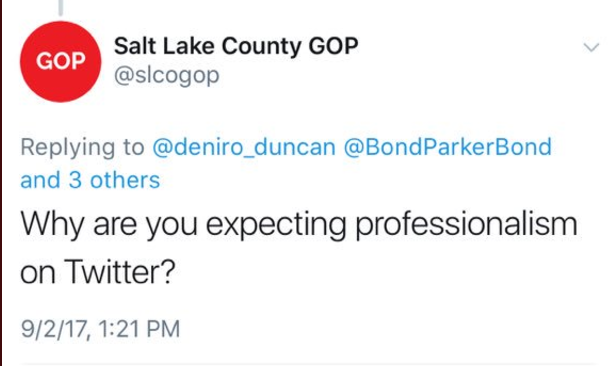 In between mocking tweets, they insisted that the platform of the Salt Lake County Republican Party called for civility (it does call for civil discourse in immigration discussions). Going even farther back in time with the account, you can find a string of Tweets where they are lecturing Utah's State Rep. Brian King (D) for being divisive instead of building bridges.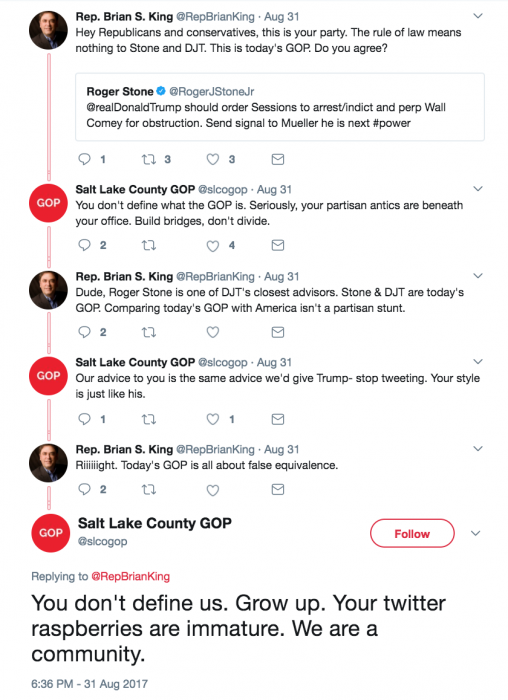 —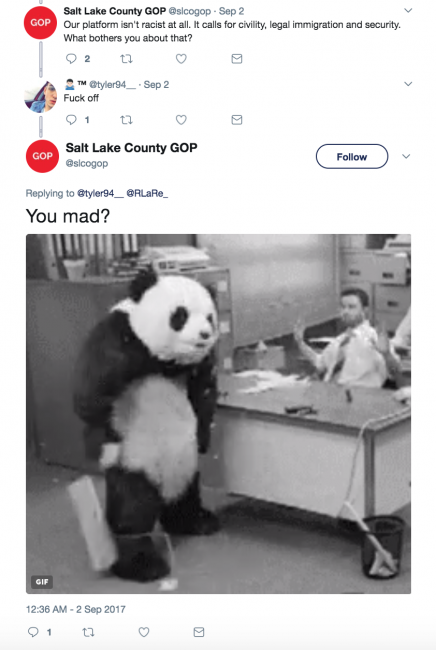 This gif shows a person in a panda costume smashing the man's keyboard.
This is weird behavior from an account claiming to be the official representation of political party, so I emailed Jake Parkinson, Chair of the Salt Lake County Republican Party, to ask for a comment and hopefully get some clarification on what was going on. Here is the screenshot of the email I sent:

When you ask questions like this of a politician, you hope for a dialogue; but I've worked in DC, and what I actually expected was blaming an imaginary intern or volunteer gone rogue, along with a bland statement about reviewing social media policies that would have made this a very different (and probably much more boring) article. What I actually got was this:

As you can see, Jake didn't answer any of my questions, including my question regarding who actually managed the account. However, from his statement that "I didn't have the Twitter account" before March 2017, he strongly implies that he is involved in primary management of the Salt Lake County Republican Party's Twitter account. With Jake's email response to me, officers of the Salt Lake County Republican Party had inferred multiple times that they don't believe I'm a real journalist. When I commented on Twitter that I believed this account's behavior was unprofessional and I intended to write this article about it, the account manager–who I may remind you was acting and speaking as the Salt Lake County Republican Party–responded like this: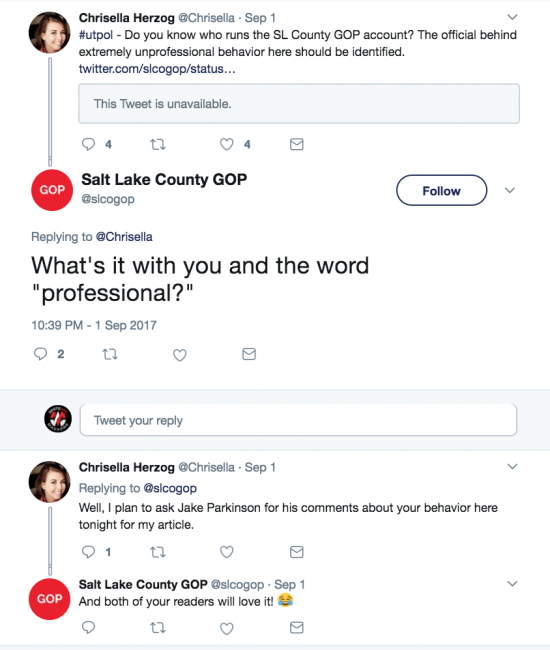 It is popular right now to be hostile to journalists, but the Salt Lake County Republican Party doesn't hate the media–at least those journalists they think they can pander to. Their beef is just with journalists who try to hold them accountable for their behavior.

From Jake's email response, it's obvious he doesn't wish to answer my questions, so I suppose I will ask here: Why is a politician using an official Republican Party Twitter account like an unfunny Reddit troll? Do they really not have anything better to do than send "haters gonna hate" gifs at 2 am to people questioning their childish behavior?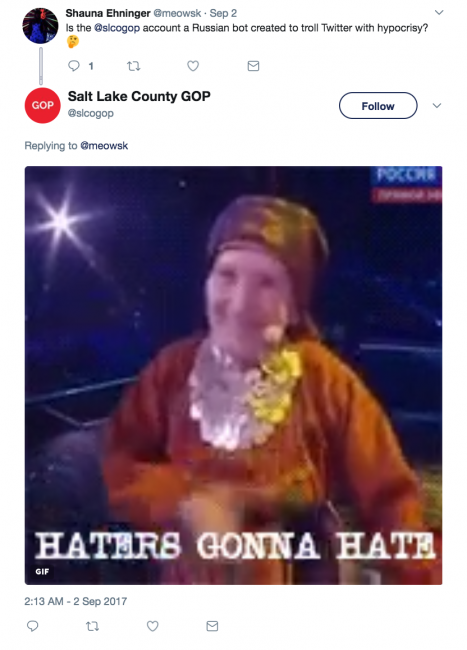 Update, 10:30 pm MST: Jake has commented on the behavior of the @SLCOGOP Twitter account, saying that someone else manages the account. This was posted as a reply to a post on the Facebook page of Brad Townley, who shared the following screenshot with me. As of this update, Jake has not contacted me to update his statement. It also does not appear this behavior was limited to Labor Day weekend: since publishing, others have reached out to me on Twitter about how they have also had conversations with @SLCOGOP that they described as "bizarre," some dating back to early August.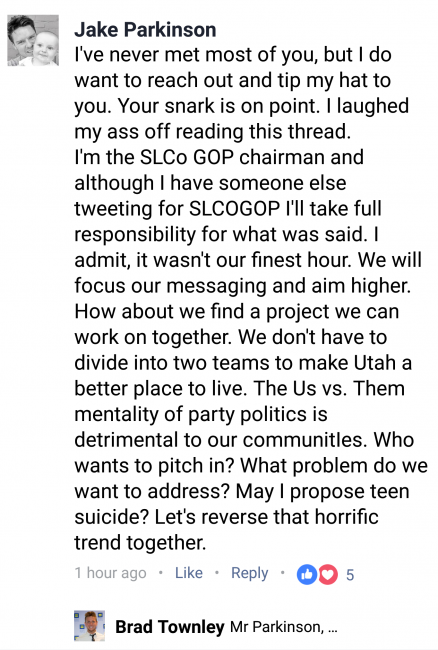 Separately, others have named Jeremy Roberts, a Utah Republican party activist, as the likely manager of the @SLCOGOP Twitter account.
When I was tweeting with SLCO GOP I was thinking to myself, "boy this sure sounds like Jeremy Roberts." 😂 @Chrisella Sure, he's not an R. 🙄

— Rep. Brian S. King (@RepBrianKing) September 7, 2017
The Context
In January, I wrote about the potential impacts Trump's use of Twitter would have on the public sector, particularly in the area of public diplomacy known as digital diplomacy: "In many ways, Trump's use of Twitter throughout the presidential campaign accelerated many of the trends already identified as key to the rise of digital diplomacy: falling trust in institutions and rising trust in individuals; responsiveness to engagement with a core community; the power of influencers in a network; and controlling the dialogue by amplifying a conversation in real time. […] President Trump's administration may usher in an era where U.S. diplomats feel emboldened to take more risks in entering the public sphere."
Domestic politicians are becoming increasingly emboldened to take more risks in the public sphere, as well. As the examples above show, the way politicians, diplomats, and public policy makers form their public personas are unique to their position, their local circumstances, and of course, their personalities. In the case of President Trump, who has repeatedly discussed his desire to "punch back harder" when hit, his use of Twitter reflects his need to always be perceived as a winner. His incendiary language, both online and off, has encouraged a culture of incivility that has flourished among the darker corners of the internet; unfortunately, conservative pundits have so far condoned, and in some cases applauded, this boorish trolling behavior for its ability to aggrieve liberals and entertain the base.
Jake Parkinson has run into roadblocks with access to the Salt Lake County GOP's social media accounts before, when he was unable to access control of a Facebook group from the former chair for several months. But it isn't a stretch to imagine that emulating other examples of boorish online behavior could cause long-term damage to the party, alienating voters in a county that trends more liberal than the rest of the state (Salt Lake City itself is a reliably Democratic stronghold). It is possible to see trends of such alienation happening in other areas of the country, including Hawaii (where the Republican Party is "dying"), among Millennial voters, and in spiking unfavorability ratings for the Republican Party in general.
Utah Republicans have faced an internal struggle for several years, where a fringe group of strict conservatives have held a stranglehold on party leadership and delegates positions, leading the party to trend further to the right than the overwhelmingly moderate conservative population of the state. This divide led to the bitter loss of Senator Bob Bennett in the 2010 GOP primaries to Tea Party challenger and now-Senator Mike Lee; it also led to a contentious three-way primary race to nominate a Republican candidate for Jason Chaffetz's seat, a nomination that was eventually secured by the more moderate Provo Mayor John Curtis over the delegates' "true conservative" choice, Chris Herrod. But it is also exacerbated by a voting population that tends to have one of the lowest turnouts in the nation, and a culture among Utah Republicans that teaches new voters to vote straight party for Republicans in elections.
Photo: "Twitter" by Chris Fournier is licensed under CC BY 2.0.
WhiteHat Magazine is supported by our readers. If you enjoy our work, you can sign up to become a member here. (10% of every new subscription goes to charitable causes.)
Comments are currently disabled on our website. If you wish to comment on this article, please join us over on our Facebook page.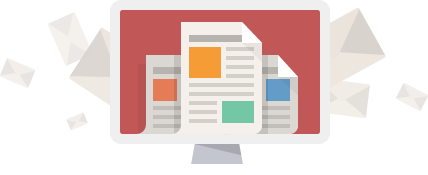 A Different Perspective.

In-depth analysis and interviews about the science and technology industries, delivered once per week to your inbox.